The Financial Regulatory Briefing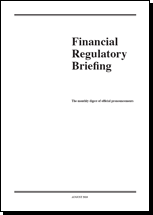 Click to view
recent briefing
FRB is a monthly, subscription-only journal and was founded in 1992 as an editorial joint-venture between the UK financial services sector's many regulators, professional trade groupings and relevant government departments. It publishes briefing notes on important matters which these bodies, and their European conterparts, wish to communicate to senior managers among their constituents and other interested parties.
A significant part of the Contributors' factual statements and their accompanying commentaries are not available in any other single publication.
The subscribers include executives, policy makers and advisers in the financial services sector, compliance and risk professionals, and leading legal and accountancy firms.
For further information please contact the editor at the address given below.